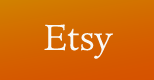 Etsy, according to the about page, is an online marketplace for buying and selling all things handmade. Let me tell you though this site is creatively designed and structured with a combination of technologies running this site it's hard not to say its homemade. The site runs smooth and the interface is just superb. The jobs Rob, Jared, Haim, and Chris did with this site has to be one the best things I have seen on the Web so far.
Stop kissing ass Cesar tell us what the hell it really does. Oh oh ok ah yeah let me just wipe my face clean. Etsy is a great place to showcase your craft projects for you to sell, or to buy someone else's. Members upload product images and Etsy will make them look professional to keep the site quality up to standard. Each member receives there own subdomain (yourname.etsy.com) with a customizable page to boot.
Signing up to be a seller is free. Every seller also gets their own shop for free, located at username.etsy.com.

Anyone over the age of 18 can be a seller on Etsy. If you are under 18, you may do so with the permission of (and under the guidance of) a responsible adult.

There are two types of fees that sellers pay to Etsy: listing fees (for placing an item for sale on the site) and sales fees (a flat percentage of the final selling price, not including shipping). After this date, there will be a $0.10 fee for each listing (multiplied by item quantity), and a flat 3.5% fee on the final sales price.

You can sell anything that is handmade or, a bit more loosely put, hand-assembled or hand-altered.
For more information as to what you can do within Etsy go to there FAQ's
The Review
Etsy uses tables the right way but I would rather see it in web standards for longevity reasons. Etsy has the perfect model for the create, buy, and sell section of the Internet. The site is just so nice looking you can't help but admire it. If I was a craftsman this would be the place I would put my personal shop online without worrying about hosting or startup costs.